The Renewal Trust working with Community Partners and Nottingham City Council
Welcome to the RT Bulletin for Dales, Mapperley and St Ann's. The Renewal Trust working with Community Partners and Nottingham City Council.The bulletin is taking a short break, so the next bulletin will be on Monday 28 November. If you would like something included in the next edition email the details to communications@renewaltrust.org.uk by Wednesday 23 November.If you missed anything from the last bulletin you can read it here
Warm Hub and Chase Cafe
The Chase Neighbourhood Centre is a registered warm hub and you can use the centre on Mondays, Tuesdays and Thursdays from 9am to 5pm, Wednesdays from 9am to 8pm and Fridays from 9am to 3pm. On Wednesday there will also be free soup and roll from the cafe (on a first come, first serve basis) from 4pm.
Cost of Living Cafe
If you are worried about how the cost of living increases will affect you pop down to the Cost of Living Cafe at the Dales Centre, Sneinton on Wednesday 16 November. You can drop in anytime between 2pm and 4:30pm – there will be a range of organisations to help you with energy saving, money management and wellbeing.
Home energy improvements drop in event
Nottingham City Council is supporting eligible homeowners to reduce their energy bills by installing insulation and solar panels in homes in the city for free. To help you understand what's on offer through this Greener Housing scheme they are holding a drop in event on Wednesday 16 November – where you can speak to the team and find out what is right for your home, how the scheme works, and how to apply. The event takes place at Harvey Hadden Sports Village, Wigman Road NG8 4PB and you can drop in at any time between 12pm and 6pm.Find out more
Monthly drop in sessions, Tai Chi and Walks from Self Help UK
Self Help Groups monthly drop in sessions – Wednesday 16 November, 11am to 12pm. To find out more email leikeisha.walters@selfhelp.org.uk or call 07946 138 247.Free Tai Chi Masterclass, 21 – Self Help UK, 23 Pelham Street NG5 1AP – Wednesday 16 November, 6pm to 7pm. To find out more call 07946 138 247.Free weekly walks – Thursday 17 November, Forest Recreation Ground, 1pm to 2pm and Friday 25 November, Woodthorpe Grange, 10:30am to 12:30pm. To find out more call 07946 138 247.Multicultural Self Help Groups monthly drop in sessions – Thursday 24 November, 2pm to 3pm. To find out more email leikeisha.walters@selfhelp.org.uk or call 07946 138 247.
Open Studios and Christmas Market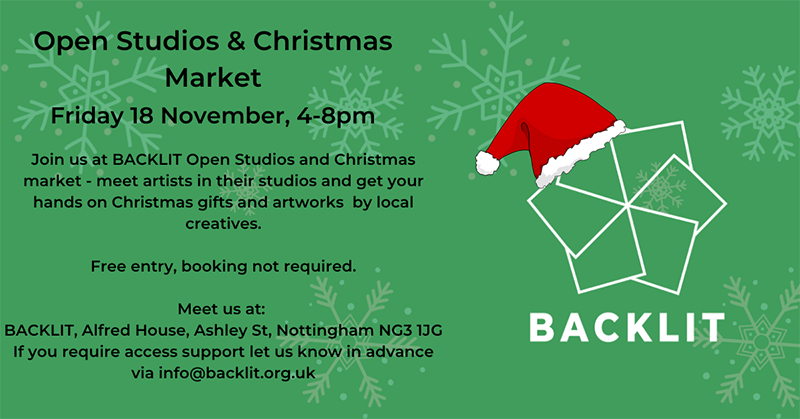 Join BACKLIT for their Open Studios and Christmas Market on Friday 18 November, 4pm to 8pm. The event will showcase over 30 BACKLIT artists and give you an opportunity to buy early Christmas gifts – there will be a selection of paintings, prints, cards, photography, pottery and more.Find out more
Job Vacancy – Place Lead
Active Notts are looking for a full time Place Lead for 37 hours a week. They are looking for someone who believes in the value of physical activity, who is committed to reducing inequalities and who has experience of developing positive relationships with people from different backgrounds and/or working in different organisations. The salary is £26,150 – Hours are negotiable, full or part time options can be arranged and the closing date is Sunday 20 November.Find out more
Skate Nottingham
Free indoor beginners' skateboarding sessions, with trained coaches, every Saturday morning 10:30am to 12pm at the Brendon Lawrence Sports Centre. The sessions are for ages 7 and over – there is no upper age limit – everyone welcome – adult beginners welcome. Skateboards and helmets available to borrow – book via the link below. If you have your own, just turn up!Find out more
Social cycle rides
Effect CIC are delivering a series of Free led bike rides in November. The next ride is on Sunday 20 November – all rides are beginner focused and supported by a trained bike ride leader. They start at Sneinton Market and end at Greens Windmill for free tea, coffee and cake!Find out more
Around Again
The Family Mentor Service have a baby bank called Around Again – through this they support families in Nottingham with free preloved baby items (specifically for 0 to 4 years). With the cost of raising children growing every year they are responding to the increasing needs of families but are currently in need of many items – items such as highchairs, pushchairs, cots, sterilisers, breast pumps, bottle warmers, nappies, wipes and milk.If you would like to help them support families you can donate through their Donation Drive which will take place on Wednesdays, from 9am to 12pm at The Chase Neighbourhood Centre, Robin Hood Chase. Alternatively, items can be dropped off at The Vine Community Centre on Bobbers Mill Road.
Sessions from SEND Project
Job vacancy – Cancer Support and Care Coordinators
Self Help UK are looking for two full time Cancer Support and Care Coordinators for 30 to 37 hours a week. The roles are varied, working within GP practices and in the community offering to ensure the needs of people living with cancer are appropriately met. They are looking for people who have experience of working in the health, social care or voluntary sector, who believe in person centred care, who are enthusiastic, compassionate, organised, reliable and flexible. The salary is £24,000 and the closing date is 5pm on Wednesday 23 November.Find out more here: https://www.selfhelp.org.uk/recruitment
Donations needed – The Ark food bank
If you wish to donate call 0751 781 1968 or you can drop off at their local collection point – 1 Greenwich Avenue, Basford, NG6 0LD or you can donate via their Go Fund Me Page
Farm sessions and Festive Fiesta
To find out more email info@mojatufoundation.org
Iona School – Advent Fayre
Vote for your favourite playground design
Nottingham City Council are looking to improve the outdoor play facilities at Marmion Park with some new equipment – Two designs have been submitted and they need your help to choose which design they use.Vote for your favourite
GreenBook
The Big Green Book has been developed as part of the GreenSpace Green Social Prescribing Project and it is a directory of nature-based activities and opportunities around Nottingham City. It has been designed to be used by social prescribers, healthcare workers and for people looking for an activity to get involved in.Take a look at the Big Green BookGreenSpace is all about improving people's mental health. Helping green providers, social prescribers, voluntary organisations and community initiatives connect people with nature-based activities.
Dance sessions
Explore creative and expressive dance sessions with IMPACD CIC – the sessions are designed to improve your physical and emotional wellbeing, to reduce isolation and loneliness, whilst encouraging tolerance, understanding and the development of healthier creative communities. The sessions take place at Todo Latino Dance Centre, Ashley Street, Nottingham NG3 1JHMixed adults – Mondays 10am to 12pm-Find out more and book your placeAdult LGBTQ+ Friendly – Wednesdays 10 am to 12pm – Find out more and book your place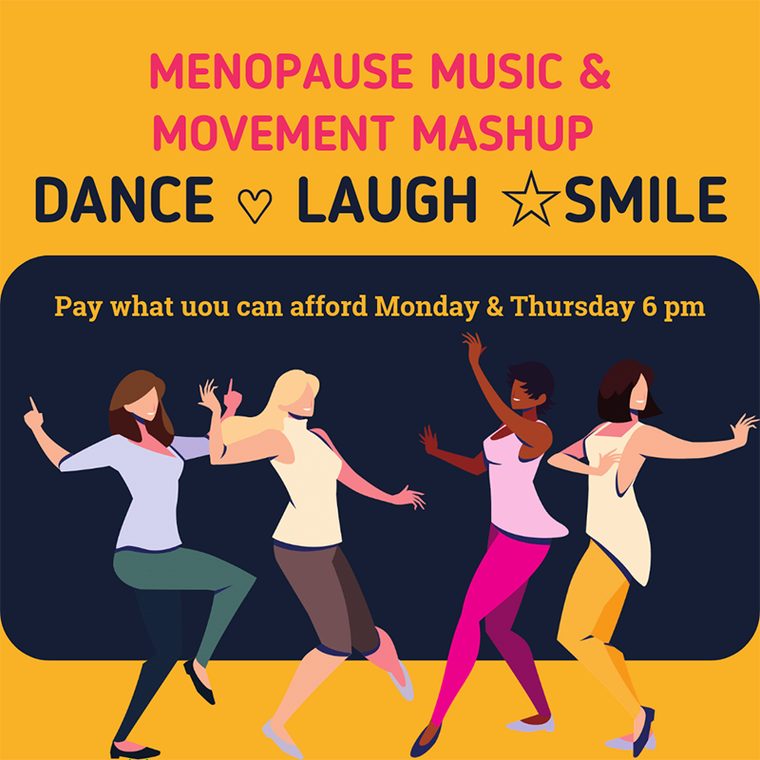 They are also running Menopause Movers and Groovers – whether you're struggling with mind fog, memory, joint aches and pains, hot sweats or low mood you can join them – the sessions will help lift your mood, increase your stamina and bone health. Dance without judgement or expectations every Monday and Thursdays from 6pm. The sessions take place at Todo Latino Dance Centre, Ashley Street Nottingham NG3 1JH – pay what you can afford.To find out more email info@impacd-cic.org.uk
Softball Cricket
Softball Cricket sessions for women and girls – Fridays 8pm to 9:30pm at the Brendon Lawrence Sports Centre, 35 Hungerhill Road NG3 4NB. To find out more call Samiah Haleem on 07900 994 321.
ACE Street Cricket open day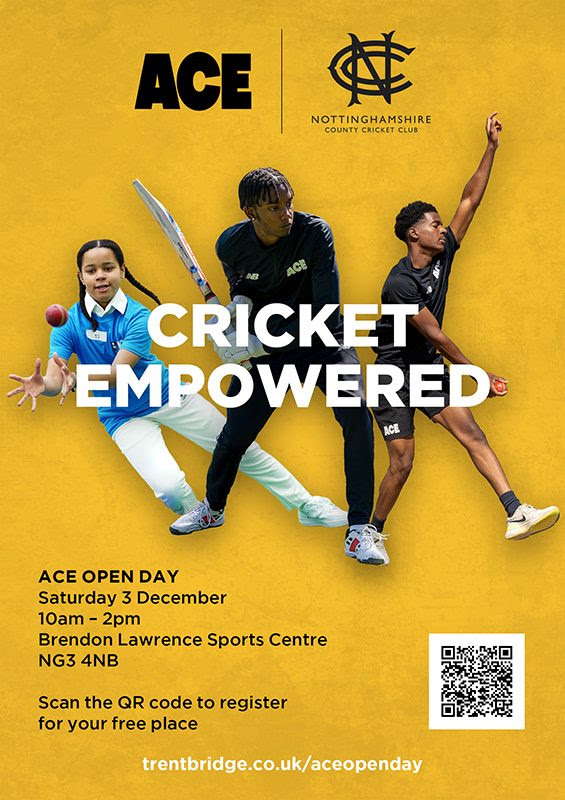 Notts County Cricket are holding a free ACE Street Cricket Open Day on Saturday 3 December, 10am to 2pm for ages 8 to 15 at the Brendon Lawrence Sports Centre, 35 Hungerhill Road NG3 4NB.Find out more and register
New and emerging communities engagement survey
The Community Champions are seeking views from new and emerging communities in Nottingham regard to accessing health services and the coronavirus pandemic. The survey will take approximately 10 minutes to complete and the findings of the survey will be used to help improve access to health care. The survey closes on Sunday 11 December.Find out more
Help and support
Help with bills, debts, benefits and evictions
If you need help with bills, debts, benefits and evictions you can call your local services:St Ann's – 0115 950 6867Bestwood – 0115 962 6519Clifton – 07887 925181Meadows – 0115 986 0197Radford, Hyson Green – 0115 978 7813If your area isn't listed above call Nottingham's Welfare Rights Team on 0115 915 1355.
To find out more call 0115 908 1534 or email info@moneysortedind2n2.orgNottingham Law Centre
If you need advice on debt, housing and welfare benefits, or advice or representation when attending Court for possession proceedings The Nottingham Law Centre offers free, confidential and independent advice to anyone who lives or works in the City of Nottingham.
Phone: 0115 978 7813 or find out more hereIf you need to contact Citizens Advice call 0300 330 5457.
You can visit the Ask Lion website to access a useful one-stop-shop that pulls together simple steps everyone can take to help manage their finances – such as:Taking control of your household spending with a budget plan using free budgeting tools at asklion.co.uk/budgeting
Tips for reducing and prioritising your bills at asklion.co.uk/bills
Benefits for children including free childcare, Healthy Start Vouchers and free school meals and checking the benefits you're entitled to using the Benefits Calculator tool at asklion.co.uk/benefits
Finding places which offer cheap food – including community supermarkets, social eating projects and food banks at asklion.co.uk/food
Free or discounted public transport in Nottingham with Concessionary Travel Passes or other travel discount schemes at asklion.co.uk/travel
Employment support
If you're looking for work, training or volunteering opportunities, or just looking for a change of career pop in to one of the job clubs happening in the area. To find out more call 0115 911 2226 or email enquiries@renewaltrust.org.uk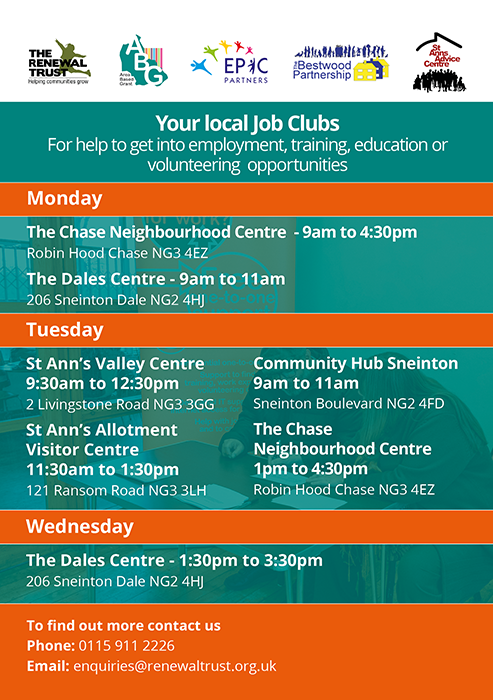 COVID-19
For the latest updates and help for city residents visit Nottingham City Council's Coronavirus page
Mental Health SupportAsk Lion have put together a list of resources and information to help you support your mental health.
The NHS have also out together expert advice and practical tips to help you look after your mental health and wellbeing. Find out more
Funding and FundraisingStay up to date with what funding is available for groups and organisations through NCVS's Funding and Fundraising page.
VolunteersIf you're looking for volunteering opportunities take a look at NVCS's volunteer page – which links potential volunteers with people who require support in Nottingham's communities. If you are a local group who are in need of volunteers you can email volunteercentre@nottinghamcvs.co.uk